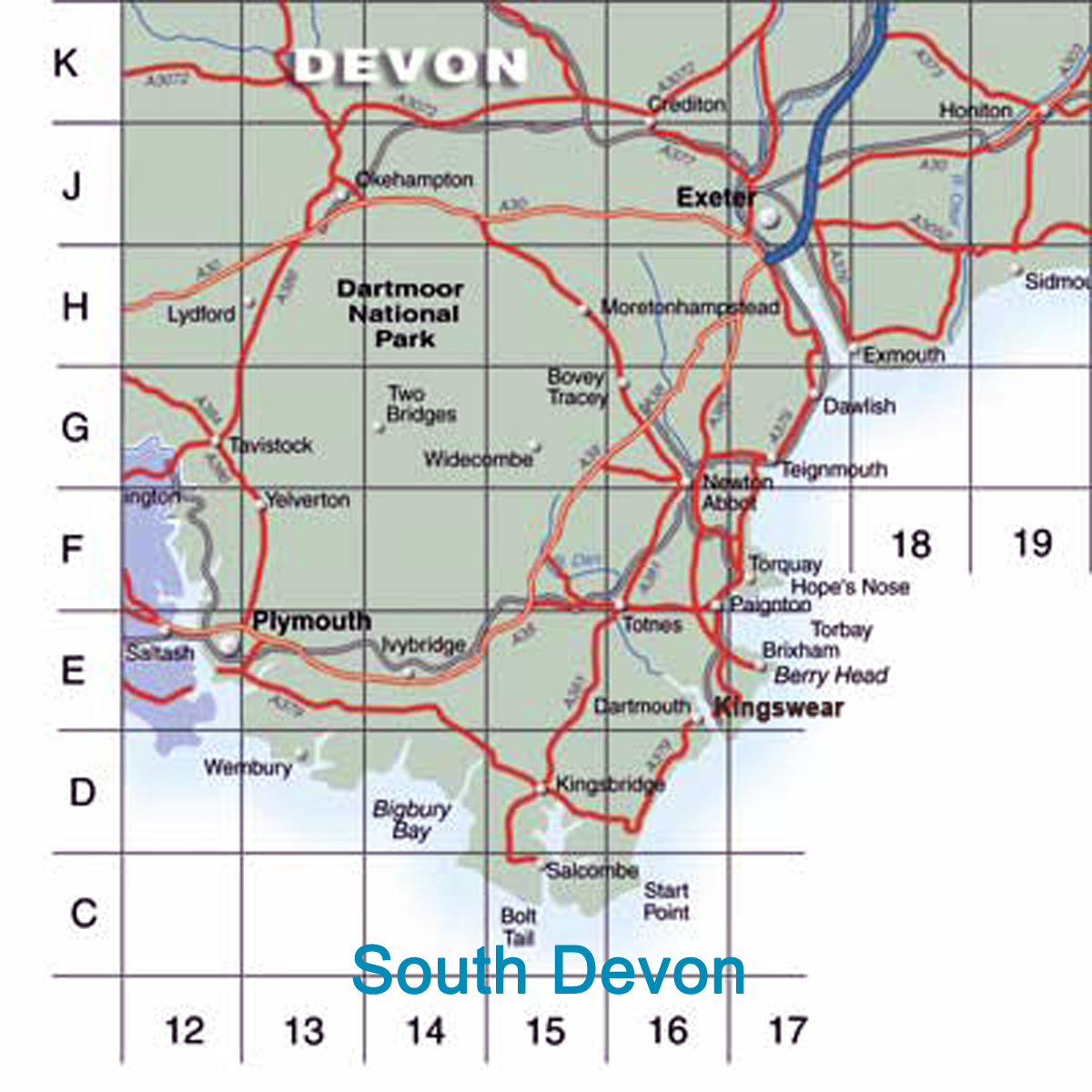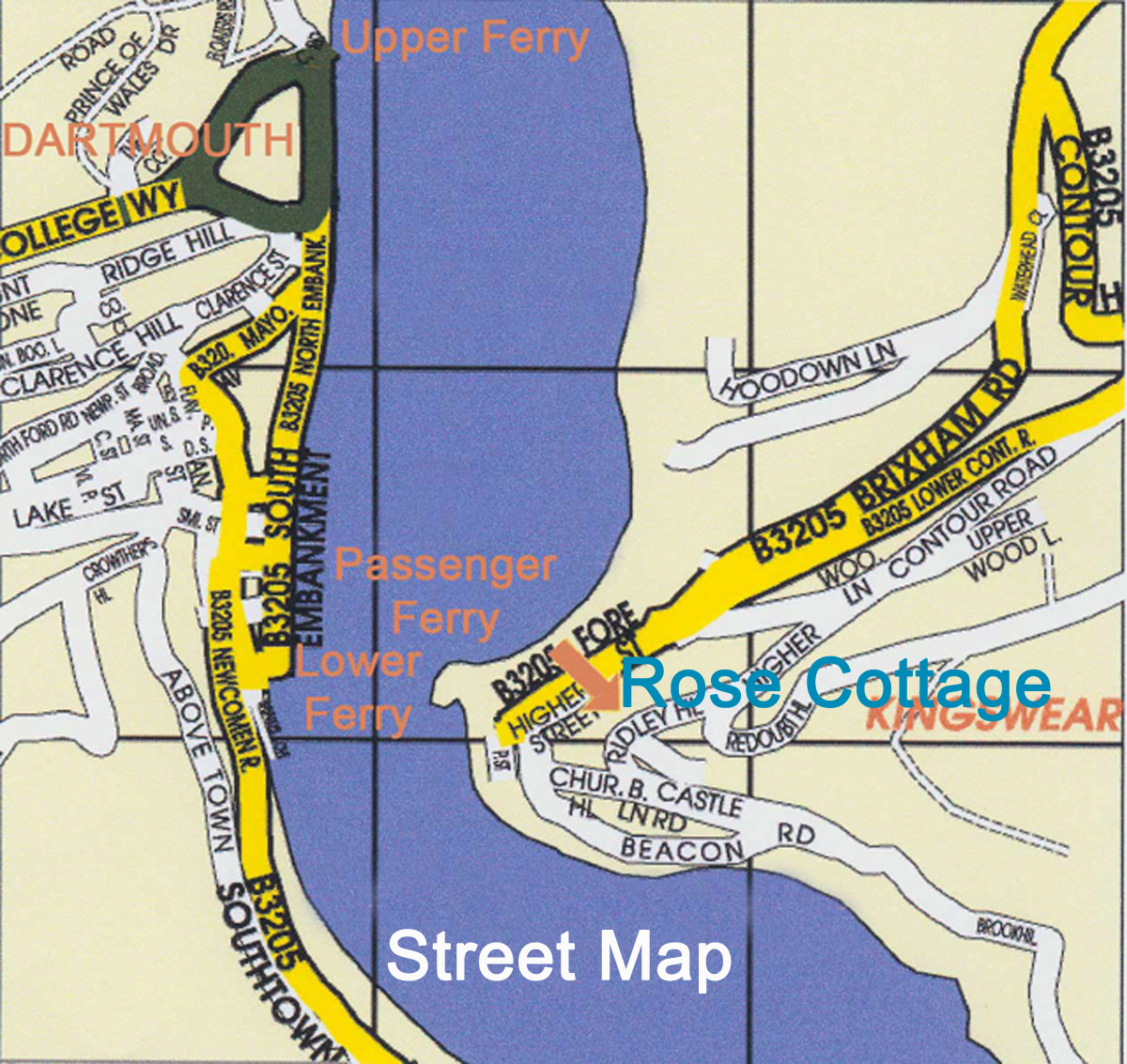 Rose Cottage
Woodland Terrace
Ridley Hill
Kingswear
Dartmouth
Devon
UK
TQ6 0BZ
Travel info / SatNav 
Latitude 50.348768,  Longitude -3.570696
Map Reference (50°20`55.6″N      3°34`14.5″W)
You can also see our location on the What3Words website / App –
https://what3words.com/dined.airfields.signal
Please print a copy of this page, do not trust your SatNav as you might be guided to the wrong side of the river!
Approaching Kingswear, Dartmouth – Route Plan supplied by The AA
Just South of Exeter
Leave the M5 at junction 31 (A30 / A38) and proceed onto the A38 / A380 
The Kingskerswell bypass, otherwise known as the South Devon Link Road was opened pre Christmas 2015 so the road quality, speed and lack of crawling traffic has vastly improved the drive.
Continue onto A38
SIGN – Plymouth A38 Torquay (A380)
Keep left, follow signs for A380 / Torquay
SIGN – Torquay A380 
Continue onto A380
Keep right to continue on Penn Inn Flyover
Merge onto Torquay Rd / A380
Keep right to continue on South Devon Link Road
Keep right to stay on South Devon Link Road
Slight right onto Hamelin Way / A380
Continue to follow A380
At the roundabout, take the 2nd exit onto Marldon Way / A380
At the roundabout, take the 2nd exit onto Kings Ash Rd / A380
Brixham Dartmouth
SIGN – (A3022) Totnes / Plymouth
SIGN – (A385) 
Continue straight onto Brixham Rd / A3022
Continue to follow A3022
Turn right onto Dartmouth Rd / A379
Slight right onto Kennels Rd / A379
Continue to follow A379
Slight left onto Slappers Hill sign to "Historic Ferry"
Continue onto B3205
Slight left onto Higher Contour Rd / B3205 just after cemetery on the left
Keep left to continue on Higher Contour Rd which merges into Ridley Road
Arrive: Woodland Terrace, Ridley Hill, Kingswear, Dartmouth, Devon TQ6 0BZ
Steps sign posted "Private  – Woodland Terrace" are situated on the estuary side of the road between a flat roofed light blue house called "Top Deck", the road in front of Top Deck has the following sign painted on the road surface SLOW and it is triple underlined and overlined in yellow stripes; and a bright blue house called "High Gables". 
Free on road car parking normally available all year except Dartmouth Royal Regatta Week which is the last week in August.
These steps are the access to our holiday home – Rose Cottage, 1 Woodland Terrace, we have painted the cottage Wedgewood Blue and white gloss.
At the top and bottom of the stairs is a light switch which illuminates the stairs for eight minutes.  It is essential that you bring a torch.
Please use the AA Route Planner on this page for more detailed directions.
You can also see our fantastic location on Google Maps / Satellite, you need to press the "enlarge" button several times to see Rose Cottage marked –
http://maps.google.co.uk/maps?hl=en&q=TQ6+0BZ&um=1&ie=UTF-8&sa=X&oi=geocode_result&resnum=1&ct=title
Neither Rose Cottage or Woodland Terrace are listed on most GPS . SatNav`s because they do not have a road frontage, but the nearest useful location for driving to is, the top of the steps.
You can also see our location on the What3Words website / App –
https://what3words.com/dined.airfields.signal
Rose Cottage, 1 Woodland Terrace, Ridley Hill, Kingswear, Dartmouth, TQ6 0BZ is found in the following square –
Dined Airfields Signal